Sakshi Chopra is all over the Internet courtesy her bikini pictures. The 19-year-old is a video blogger and is training at London's famous Trinity School in music. It is the same school that has given us Yo Yo Honey Singh. When you see Sakshi's pictures, they remind you a lot of Aalia Furniturewalla. The two are in the same age group, study abroad and are famous on their own accord. Well, the two girls do share common history. In 2014, Aalia and Sakshi were partying at the same nightclub, Tryst in Lower Parel. While the former was with her friends, Sakshi was with her mom, Meenakshi. The two girls had a fight and Meenakshi complained that Aalia was drunk and assaulted her daughter. Pooja said that Aalia was only supporting one of her friends after Meenakshi made obscene gestures at her. She also said that Sakshi had created pages on Facebook about Aalia and posted some extremely vile and derogatory stuff about her. The two girls were studying in the same school as well. Today, when Sakshi's pictures are breaking the Internet, we cannot help but draw out a few similarities between the two girls.
Family legacy
Sakshi is the great grand-daughter of Ramanand Sagar. An alumni of University of Punjab, he moved to Mumbai after the Partition. An extremely hard working man, he struggled his way up from a clapper boy to a director-cum-writer. Sagar Films' Ramayan that aired on TV in 1987 was a great one for Indian TV. Well, Aalia also comes from an equally illustrious background. Her grandmother Protima Bedi was one of India's best known Odissi exponents who founded Nityagram. Aalia's Nana, Kabir Bedi is an accomplished actor while her mother, Pooja is known for her columns. It is a family that respects individuality to the core.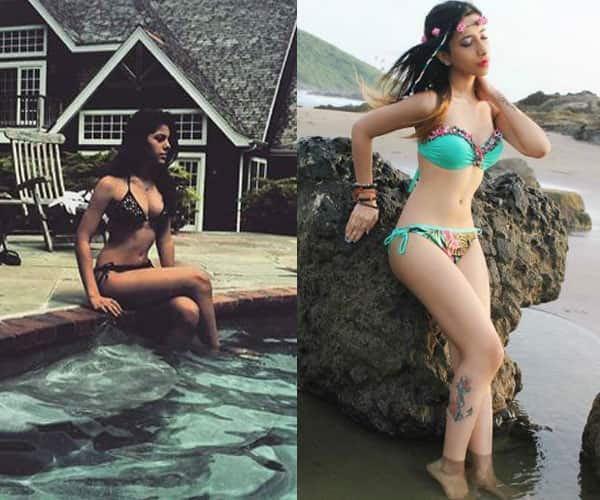 Education
Both Sakshi and Aalia have done their IGSCE and IB from Juhu's prestigious Jamnabai Narsee School. While the former moved to Trinity School, London to pursue music, Aalia is studying acting at New York Film Academy after doing a course in direction from New York University. Both these girls seem to love to party.
Dare to bare
Clearly, the girls love to swim and flaunt their toned bodies. While Aalia is more lithe, Sakshi is a lot more curvaceous. We have seen Aalia's snaps in the pool and Sakshi is also showing off her bikini avatar in Goa. The girls love their makeup and Sakshi wears makeup even while hitting the beach. They surely believe in setting Insta on fire. aalia and Sakshi have great bodies and possess the much-coveted thigh gap. Having a thigh gap requires a lot of hard work for women who are not blessed with its naturally. However, girls with wider hips get it more naturally.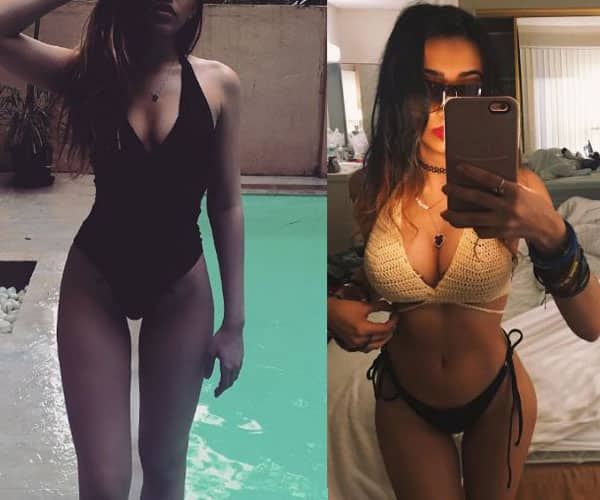 Social network obsession
Well, these girls love Insta. The bigger thing is they post their best snaps as much as possible. Aalia looks gorgeous in most of her snaps and Sakshi is also all dolled up. Sakshi has 173K followers while Aalia has 226K. We are sure that the former will also get more followers now that she is making news.
Accomplishments
When Aalia hit out at her detractors writing that they should not judge her by her breasts, she had a valid point. The gal has won the Balakratna National Art Award and her installations have been put in Mood Indigo and Kala Ghoda Arts Festival. She is also a brilliant student. Sakshi is also studying music at Trinity and is a video blogger. The lady can sing as well.
Do you feel that Sakshi Chopra and Aalia Furniturewalla have a lot in common. Do let us know with your comments. Stay tuned to Bollywood Life for more updates…
-bollywoodlife.com